Introducing the NEW Leather Vida
Based on our Terra Vida design, but made with soft, supple leather, these shoes are super comfortable and perfect for the coming chilly weather!
Shop Now!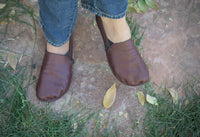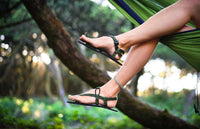 Unshoes Mission
Our mission at Unshoes is simple. Each day we are bombarded with subtle messages that imply that we are not good enough. There is a never ending supply of products that are promoted as a way to out perform your natural ability. Many people have begun to assume that they were born broken. Our message is the opposite. We as humans are functional, from the ground, up. Our feet are the very foundation of our body! Our goal is to empower people in body and mind starting with their feet by creating footwear that enables them to move naturally.
Testimonials
We absolutely love our Unshoes! As a family, we travel full time in our RV and they are perfect for everyday use, even hiking and take up minimal space. Which is important for us! 

Amanda R.
My favorite (un)shoes. I love going barefoot but sometimes it's not feasible. My unshoes are the perfect solution. I also don't like having anything between my toes I'm so glad they offer the Pah Tempe style. There is a style and color for everyone. Even pink for the girls! 

Heather H.
Not only are Unshoes my favorite shoes to wear, their customer service is next level! They're so helpful & generous! I highly recommend their shoes, I'm not usually wearing shoes but if I have to, I'm glad to have my Unshoes around.

Effie C.